X500 REGENT JACKET LADY NY
Moving habits change, but for managers and professionals the need to keep an impeccable outfit all day remains. MINIMA has created for them a protective capsule collection, that combines contemporary appeal and attention to details, while maintaining the right body temperature for a unique and satisfying comfort.
water repellent nylon;

reflective details;

4 pockets on the front;

2 pockets inside;

belt;

detachable hood;

detachable mask;

quilted lining.
X500 REGENT JACKET LADY NY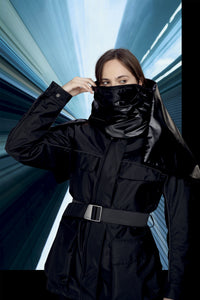 Color

Size
Jacket & Top Man
STANDARD
IT
UK
US
Chest
Waist
Hip
Overarm
Waist
82 cm/ 32.25 inches
Overarm
85.5 cm/ 33.5 inches
Chest
102 cm/ 40.25 inches
Waist
86 cm/ 33.75 inches
Overarm
87 cm/ 34.25 inches
Chest
106 cm/ 41.75 inches
Overarm
88 cm/ 34.5 inches
Chest
110 cm/ 43.25 inches
Chest
114 cm/ 44.75 inches
Overarm
90 cm /35.5 inches
Chest
118 cm/ 46.25 inches
Overarm
91 cm/ 35.75 inches
Waist
106 cm/ 41.5 inches
Overarm
92 cm/ 36.25 inches