SMITH RACING BLOUSON MAN
Matchless Leather Blouson.
The Matchless Smith Racing Blouson is a new leather jacket that combines style and functionality with a nod to the brand's rich heritage. This blouson features a slim fit design that is made from high-quality, full-grain leather, which is durable and luxurious to the touch. Its bold racing-inspired design, with contrasting panels and stripes, gives it a unique and edgy look. The jacket also comes equipped with several practical features, such as a zippered front closure, multiple pockets, and a detachable quilted lining, making it the perfect choice for both style and comfort. Whether you're a motorcycle enthusiast or simply looking for a statement piece to add to your wardrobe, the Matchless London Smith Racing Blouson is a must-have for any fashion-conscious individual.
neck collar with button;

red and white stripes;

two side zip pockets;

central zipper fastening;

ventilation system with front inlet and back outlet;

zip on the wrists to adjust fit;

viscose lining.
SMITH RACING BLOUSON MAN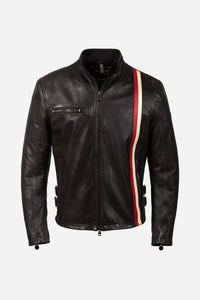 Color

Size
Jacket & Top Man
STANDARD
IT
UK
US
Chest
Waist
Hip
Overarm
Waist
82 cm/ 32.25 inches
Overarm
85.5 cm/ 33.5 inches
Chest
102 cm/ 40.25 inches
Waist
86 cm/ 33.75 inches
Overarm
87 cm/ 34.25 inches
Chest
106 cm/ 41.75 inches
Overarm
88 cm/ 34.5 inches
Chest
110 cm/ 43.25 inches
Chest
114 cm/ 44.75 inches
Overarm
90 cm /35.5 inches
Chest
118 cm/ 46.25 inches
Overarm
91 cm/ 35.75 inches
Waist
106 cm/ 41.5 inches
Overarm
92 cm/ 36.25 inches