NEW DARK BLOUSON MAN (Suburra III)
Introducing the Dark Blouson, a striking piece of cinematic fashion as seen in Suburra. Crafted from the exceptional hammered nappa leather, its unique texture and design are guaranteed to turn heads, making it the ultimate statement piece for those who appreciate distinctive style and unmatched quality. 
two front pockets on the top with zip;

two side zip pockets;

central zipper fastening;

ventilation system with front inlet and back outlet;

zip on the wrists to adjust fit;

viscose lining.
NEW DARK BLOUSON MAN (Suburra III)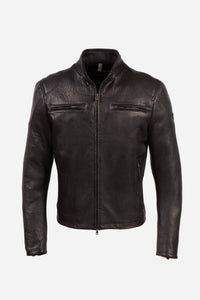 Color

Size
Jacket & Top Man
STANDARD
IT
UK
US
Chest
Waist
Hip
Overarm
Waist
82 cm/ 32.25 inches
Overarm
85.5 cm/ 33.5 inches
Chest
102 cm/ 40.25 inches
Waist
86 cm/ 33.75 inches
Overarm
87 cm/ 34.25 inches
Chest
106 cm/ 41.75 inches
Overarm
88 cm/ 34.5 inches
Chest
110 cm/ 43.25 inches
Chest
114 cm/ 44.75 inches
Overarm
90 cm /35.5 inches
Chest
118 cm/ 46.25 inches
Overarm
91 cm/ 35.75 inches
Waist
106 cm/ 41.5 inches
Overarm
92 cm/ 36.25 inches